An excellent refresher course
All drivers. It is designed to provide a full training experience condensed into the shortest possible amount of time. It is excellent as a refresher course, regardless whether you are an amateur driver or a professional

Up to 8 drivers, with two drivers per car



9:00 AM to 1:00 PM or 1:00 PM to 5:00 PM
In just four hours, our starter safe driver training will prepare you to successfully anticipate and avoid critical situations in road traffic. Training is delivered through a series of theoretical and practical exercises.
What does the training look like?
As an introduction to the theory and practice of safe driving, this training programme is ideal for low-mileage drivers who use their car mainly to commute to and from work.
It provides knowledge of the most critical dangers on the road and allows you to reach and exceed for the first time the limits imposed on you by the road and the car. You will brake at low and high speeds, avoid obstacles; moreover, you will experience, in absolutely safe conditions, a head-on collision and car rollover; finally, you will learn the basic rules of defensive driving.
Valid driving licence, above 18 years of age
Use of a training vehicle, work with trainers and a certificate of completion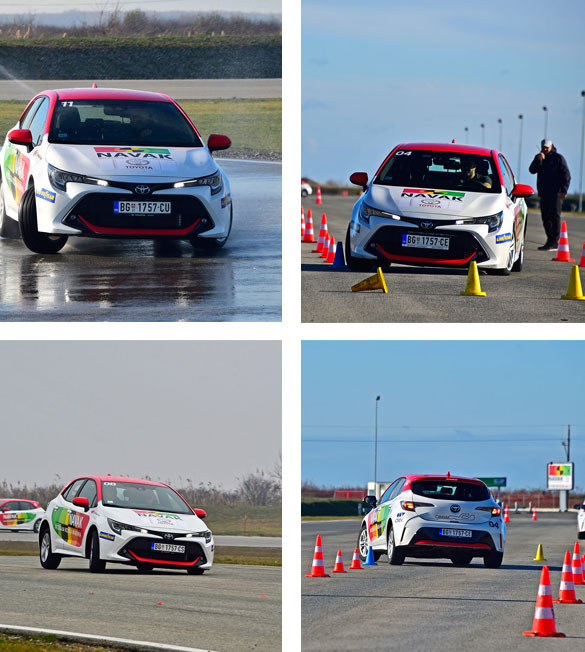 Take a look at a typical NAVAK passenger vehicle training
NAVAK Centre is situated in the village of Subotiste, in Pecinci municipality, just 40 kilometres away from Belgrade and an equal distance away from Novi Sad. For more information, visit our contact page.
NAVAK training in pictures
Discover NAVAK's track and current trainings through photos. View the complete gallery of passenger vehicle training images here.
Other passenger vehicle trainings