The most comprehensive driver training course
This training programme is designed for drivers who cover high mileages at the steering wheel of a passenger car, either for their own purposes or for their company.

Up to 8 drivers, with two drivers per car



This is a demanding programme, encompassing both theory and practice, designed to raise drivers' awareness of road hazards and develop the instincts required for a driver to recognise a critical situation avoid an accident. You will discover the limits of a vehicle's ability and – more importantly – the limits of your own ability behind the steering wheel.
What does the training look like?
Our trainers will take you on a journey from elementary knowledge, such as proper seating position and the most efficient steering technique, to pro-level knowledge, for example reacting to vehicle drift-out while cornering.
The exercises are performed at speeds between 60 and 100 km/h. You will learn how safety systems work and what vehicle stability depends on, with minimum four whole hours of practice behind the steering wheel of our training vehicle. Advanced principles of defensive driving will help you anticipate danger, prevent a critical situation from occurring and avert road traffic accidents.
Valid driving licence, above 18 years of age
Use of a training vehicle and simulators, work with trainers, a hot meal and a certificate of completion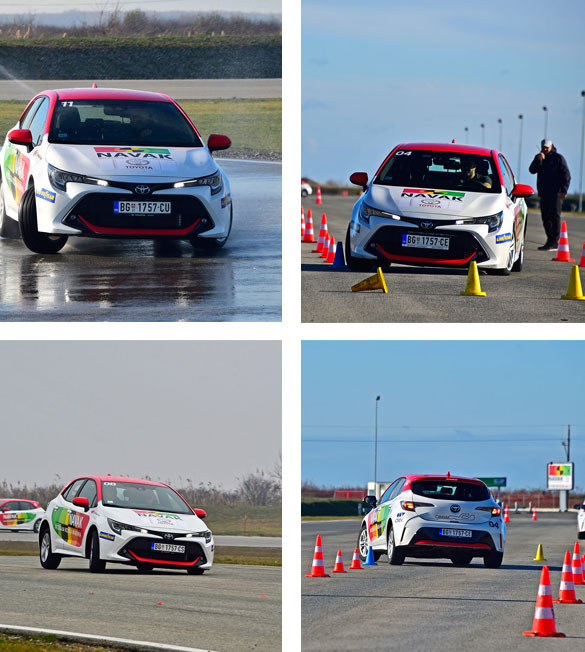 Take a look at a typical NAVAK passenger vehicle training
NAVAK Centre is situated in the village of Subotiste, in Pecinci municipality, just 40 kilometres away from Belgrade and an equal distance away from Novi Sad. For more information, visit our contact page.
NAVAK training in pictures
Discover NAVAK's track and current trainings through photos. View the complete gallery of passenger vehicle training images here.
Other passenger vehicle trainings