The basics of safe driver training
Beginner drivers or those who have not driven in a long time. Through theory and practice, we cover the essential topics, from reaction time to keeping a safe distance.

Up to 10 drivers, with two drivers per car



9:00 AM to 1:00 PM or 1:00 PM to 5:00 PM
If this is the first time you come across the concept of safe driver training, our starter programme will give you a solid starting point. Regardless whether you are an experienced driver or a beginner, it is vital that you experience exactly those situations that you would not normally encounter every day. Put your skills to the test and dispel your dilemmas, at least as far as driving is concerned.
What does the training look like?
Through one hour of concise theory, you will learn the basics of defensive driving and, among other things, test your knowledge of the key concepts of road traffic safety that are not covered by legislation.
After that, you will proceed to take three practical exercises, where you will experience some of the basic elements of safe driver training behind the steering wheel, while driving at a medium to low speed.
Over the course of three stress-free, nondemanding hours, you will learn about safe distance and efficient braking, on top of numerous other topics. The primary aim is to dispel some common driver misconceptions and lay a safe path to acquiring broader knowledge of safe driving.
Valid driving licence, above 18 years of age
Use of a training vehicle and simulators, work with trainers and a certificate of completion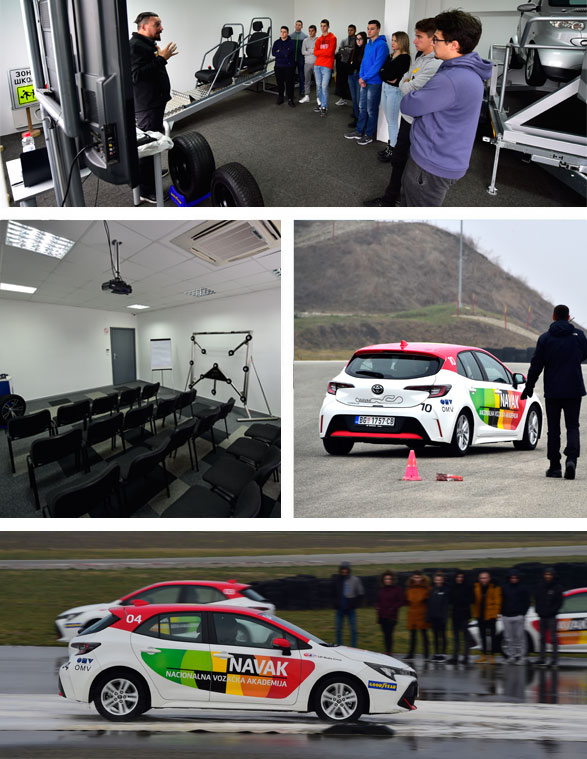 Take a look at a typical NAVAK passenger vehicle training
NAVAK Centre is situated in the village of Subotiste, in Pecinci municipality, just 40 kilometres away from Belgrade and an equal distance away from Novi Sad. For more information, visit our contact page.
NAVAK training in pictures
Discover NAVAK's track and current trainings through photos. View the complete gallery of passenger vehicle training images here.
Other passenger vehicle trainings